If Billy Abel didn't write songs about his life, somebody else would have to. Just a cursory glance at his history conveys his propensity for amazing adventures — not to mention his apparent ability to excel at just about anything he tries. It's the kind of life that inspires screenplays or book chapters — or verses filled with the sorts of insights and wisdom that come only from experiencing at least a few setbacks on the road to success.
The abridged version of his bio might read as follows: Abel grew up in Indiana, but his family spent Christmases in Steamboat, Colo., where he fell under the spell of cowboy singer-songwriter Greg Scott. Abel didn't pick up a guitar himself until he arrived at Indiana University in Bloomington, but it wasn't long before he began performing live. After earning a degree in philosophy and music history, he headed for Montana and started building barns, following in his grandfather's and great-grandfather's footsteps.
Instead of pursuing his original plan to attend law school ("the mistake I didn't make," he says now), Abel became a horse wrangler — and literal singing cowboy, performing at lodges and guest ranches like his friend Scott. Restaurant management came next, and led to a job in New York. Abel then moved to Jersey, where he built a successful horse-shoeing business and taught canine obedience classes. He also earned a pilot's license — after logging only 35.1 hours at the controls. (The minimum requirement is 35.) The flight school offered him a job, and free flight instructor training. It didn't take long for him to start his own aircraft management and flight-school business — or to segue into piloting corporate jets.
That led to a two-year stint in Brazil, flying Falcon jets. When Abel returned to New Jersey in early 2013, he decided to take a trek out West.
And that's how our protagonist found himself in Austin, where he'd tracked down a raved-about ice cream shop and noticed several guitar-toting women striding inside a nearby dive bar. Called, coincidentally, the Horseshoe Lounge.
Turns out they were showcasing their work as students of Mandy Rowden, founder of the Girl Guitar music school for women. Abel, who'd hit town just hours earlier on his way to California, wound up performing a few of his songs that night. His folk-Americana songwriting, singing and guitar-playing were well-received. Austin embraced him, as it has a way of doing.
"I felt at home," he recalls. "When I got back to Jersey, that feeling stuck with me." It didn't take him long to turn around and come back. For good.
He contacted Rowden, who invited him to play with some friends. They tried out some songs together.
"Right away, for me, it felt really good," he says.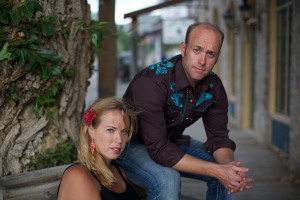 In short order, they found themselves collaborating, a process that quickly turned into performances, then a tour. With new songs written in those first few weeks in Austin, they decided to record an album. In just a few hours, they laid down all the tracks for Better Angels. It was Abel's first time in a recording studio.
A quick study, Abel's rapidly learning the ins and outs of production, promotion and touring. Like seemingly everything he does, he's already successful at it. And now that he's got Better Angels under his belt, Abel is planning to record in Nashville with Rod Picott, another singer-songwriter. He's also working hard to follow in the footsteps of one of his songwriting heroes, Slaid Cleaves — who, coincidentally, recorded a live album a couple of years back in that very same Horseshoe Lounge.
Abel says he'd love to open for Cleaves, or Guy Clark or Steve Earle, two other heroes. For now, he's just happy to have places to play and people who want to hear his music.
"Like Guy Clark said, 'There ain't no money in poetry, but that's what sets the poet free,'" Abel offers. "I've had some money and I've been through times where I didn't have anything, but the music was always there. If I can share that with people, that's about as good a target as I can ever have."
By Lynne Margolis
Photo by Buddy Quaid